Hi,
I'm new to Photon, and I'm wondering if I'm on the right track or not. What I'm trying to do is to map three different Cameo fixtures, which are not found in the current device list. When doing this I've got some questions which I'm wondering about, before I'll show what I've done so far.
The control table for the first light, a Cameo Q Spot 40 RGBQ (model no: CLQS40RGBW), I'm working with is: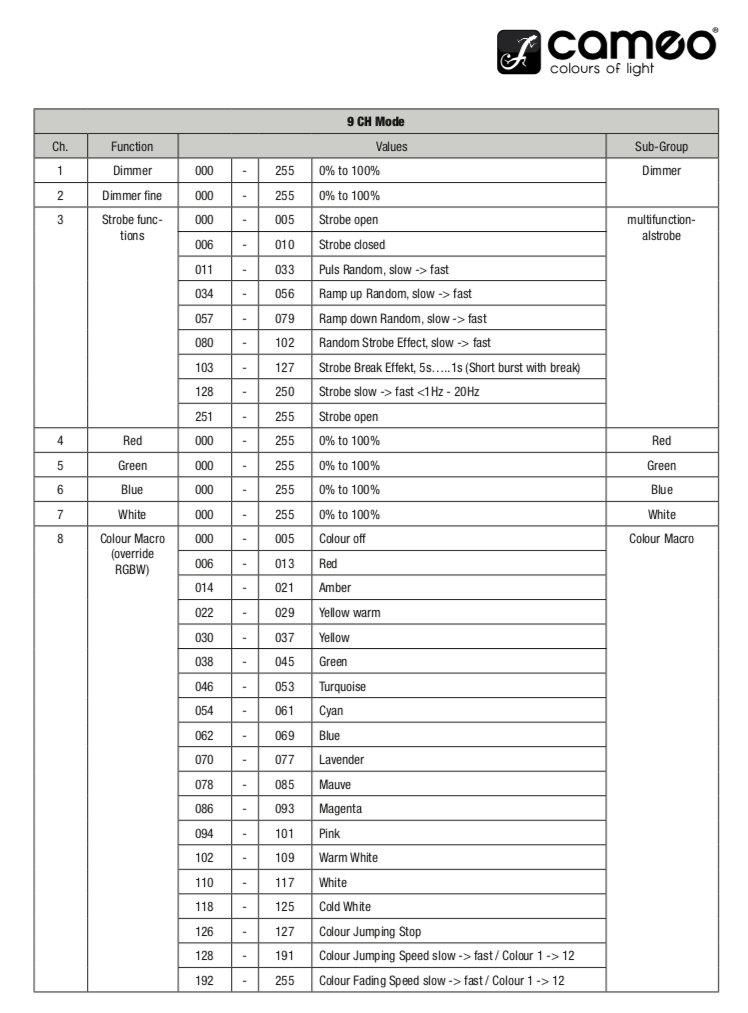 I created my device in "Custom devices", and afterwards saw that I could add it directly to the Cameo folder. Can I move my custom device into that folder, or do I have to recreate it?
For the strobe channel I've created a custom effects channel, and assigned the various channels to buttons and sliders. These will not match the default strobe controller in Photon will it? Would it be better to have a custom effect for the non-standard strobe thingies on channel 3, and then add a default strobe control for channel 3, values 128-250? Is this even legal?
Similarly, I've created a custom effects for the colour macro with loads of (grey) buttons to match the various colours, and some sliders on the last two colour animations. Could I get to colour my buttons? Would it be better to use gobos somehow? And how do I access the gobos?
The colour effect added to this fixture, is also going to be the same on a different fixture (which has an 13CH mode with various stuff included). Can I copy a custom effect from one device to another? And if so, how do I do that?
If/when I'm satisfied with my device setup, can I somehow share it for others to use?
The dimmer of this fixture is 16bit, is that possible to map in Photon? If so, how? (Currently I've just mapped the main part, and set the "fine dimmer" to a static value of 0.
The faders currently display all values in percentages, is it possible to get it to display the actual value it outputs?
That was a lot of questions, and I'm hoping they're understandable, and that someone have the time to answer them. I wanted to add some screen shots to illustrate my current attempt, but as a new user I'm only allowed one image.
However, here is a hidden imgur album of those screen shots I took: https://imgur.com/a/VN54wo3
By the way, I'm still working on configuring the Eurolite DMX node and the dedicated network, so I'm not able to tell whether my current configuration works or not, but within a day or two I reckon I've got it up and running. Just wanted to get some indications whether I'm doing it correctly, so far.